The University of Michigan is catching heat for stuffing dry ice down groundhog holes to kill the little buggers, which are apparently chunneling the heck of out north campus.
The university is worried their passageways will "undermine the foundations of structures, porches and pavement," according to a news account. So one minute the Lurie Bell Tower is there then, poof, it's gone, swallowed whole by a groundhog sinkhole.
That would suck.
A university spokesperson said groundhogs "are capable of moving a lot of dirt in their digging," which can create a tripping hazard.
Fair enough, except for the fact that most of the university is crisscrossed with sidewalks, so unless they tunnel through concrete the risk of tripping seems a bit remote. College students, of course, are known to lounge, play and cavort in the grass. So that could be problematic.
Then again life is risky, so …
If I had to choose, I guess I'd side with the groundhogs. I don't have any particular fondness for them. They've tunneled a yard or three of mine and it always made me angry. As my Grandma Rose used to say, "The only good varmint is a dead varmint." Or was that Carl Spackler?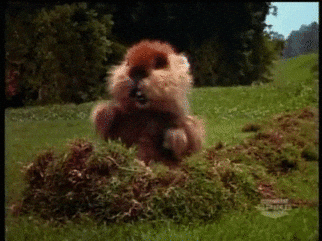 But to my surprise I've become more of a pacifist over the years. I never used to think twice about crushing spiders inside the house. Now I carry them outside where they no doubt think, "Well, that was inconsiderate. Now I've gotta go to the hassle of getting back inside again."
Besides, suffocating the poor bastards in their dens seems a bit unsporting. That's what the dry ice does. When it evaporates, it produces carbon dioxide, thereby choking the groundhogs. Imagine how awful that would be. Imagine you're a groundhog and you see a pretty white fog rolling down the tunnel: "Oh, look, party fog. It must be Halloween. I'll go get my costume on." Then, whammo, all of sudden you go from pushing up dirt to pushing up daisies.
I think what bothers me most is we're talking here about the University of Michigan. The place is full of giant brains, and yet they can't think of a humane way to get rid of groundhogs? At least bring in Bill Murray and his plastic explosive squirrels – something creative and not so crass.
Or how about this: just don't kill them at all. By killing groundhogs instead of capturing and relocating them, UM is abandoning its principles as a liberal bastion of love, peace, freedom and intellectualism.
UM is better than that.
As a lifelong UM fan that irritates me enough to suggest that, on the evening before this fall's big game, MSU students seed the heck out of the entire UM campus with groundhogs wearing green Sparty sweaters.
And maybe equip them with little backpack oxygen tanks for the inevitable retaliatory strike.
Just in case.
Image credit: via Giphy